Tomatoes should be ordered in March for best availability, since tomatoes are started to order; and picked up in May. For details, see Plant starts.
RED AND PINK VARIETIES
Italian Heirloom

(Seed Saver's Exchange/Iowa) – 70-80 days – Indeterminate
Red slicer/canner, productive, fruits over a pound. This red, heart-shaped tomato has it all; it's early, it's huge, it wins the taste tests, it's dense without too many seeds so great for cooking. Best Tomato Ever.
Gill's All Purpose

(Territorial/Cottage grove) – 75 days – Determinate.
Nice round red tomatoes, with excellent flavor; the only one (other than Sungold) that was really delicious in the cloudy summer of 2010 – it was tomato of the year! An old Oregon heirloom variety. Organic seed. One of my favorite of the JARTs (just another red tomato).
Rose de Berne

(Fedco/Maine) – OP Heirloom – Indeterminate.
The Brandywine of Switzerland, this is a large (but not brandywine-size), pink tomato with excellent flavor even in slightly less sunny conditions. I do see more variability with this variety than most. Still, one of my favorites.
Super Fantastic

Hybrid – 70 days – Indeterminate.
Large red tomatoes, smooth red pretty globes, productive, disease resistant. The flavor is good but not necessarily outstanding, but the size, beauty, and productivity mean I always grow it. It does especially well for us in the hoophouse in fall.
EARLY VARIETIES
Stupice
(Territorial/Cottage Grove, OR) OP – 55 days – Indeterminate
Pronounced "Stew-peach-ka". Extra-early, cold-tolerant tomato. 2-4 oz salad size very very sweet, delicious red fruit, one of the first to harvest and one of the last in fall. Originated 1977 in Czechoslovakia. Organic seed.
Scotia
(Saved Seed) OP – 60 days – Determinate
Small plants. Sets fruit in cold weather and produces a good number of medium size slicers with very good flavor. No commercial seed available, this year only saved seed.
Siletz
(Adaptive/Oregon) OP – 65 days – Determinate
Medium red slicer, small plant. bred at OSU. Suggested as a variety that can handle cold spring weather and heat waves better than most; it did pretty well in 2022, with good size tomatoes and excellent flavor.
Uralskiy Ranniy
(Adaptive/Oregon) OP – 50 days – Determinate/dwarf
Very small plants, produces smallish tasty red tomatoes very early. I've been growing these for almost ten years and I still cannot spell the name.
PURPLE AND BLACK VARIETIES
Black Krim

(Nichols, Albany) Heirloom – 80 days – Indeterminate.
Large, slightly flattened, dark-purple fruits shading to red, beautiful color; and delicious, rivaling Purple Cherokee.
YELLOW, ORANGE AND WHITE VARIETIES
Gold Medal

(Territorial/Cottage Grove) OP Heirloom – 75 days – Indeterminate
Very large, yellow blushed with red; mild flavor. Early ripening and does well with cooler nighttime temperatures. This does much better than Big Rainbow, which it replaces; a wonderful, productive tomato that even impressed Rose Marie Nichols McGee, who's tried a lot of tomatoes. Organic seed.
GREEN-MULTICOLOR VARIETIES
Ananas Noire

(Fedco/Maine) OP – 85 days – Indeterminate.
Uniquely beautiful and delicious! This was FwF Tomato of the year in 2007 and we always grow it for the jaw-dropping beauty of the red, green and black colors. Plus it's delicious! Very large tomatoes have skin in green, purple, orange and yellow, while the flesh is green with red and purple streaks.
SMALL FRUITED – CHERRY AND GRAPE TOMATOES
Sungold

(Nichols/Albany) Hybrid – 65 days – Indeterminate.
This has won more taste tests than anything else – the small round light orange cherry tomatoes have a sweet, tangy, fruity flavor that's just amazing. One of the earliest, productive, but does not produce very late into fall. Some splitting. If I could only take one tomato to a desert island, this would be it. Non-semenis hybrid.
Peacevine cherry

(Peace Seeds/Corvallis) OP – 70-80 days – Indeterminate
Small bright red cherry in tresses. Exceptionally good flavor. Very high in Vit. C cherry and gamma-amino butyric acid (a natural body sedative that calms jitters). I've had them start coming in at 64 days.
Chocolate Cherry

(Siskiyou Seeds/Oregon) – 70 days – Indeterminate
Chocolate Cherry won a lot of taste tests (or at least, tied with Sungold and Italian Heirloom, which is as good as a win). They are regular cherry size (a bit larger than I prefer), very productive, and kept producing well into fall. Territorial no longer carries this; hopefully the new seed source will be as tasty.
PASTE AND PLUM TYPE VARIETIES
Martino's Roma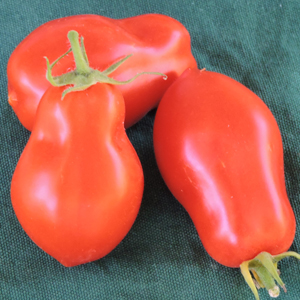 (Pinetree/Maine) – OP – 75 days – Determinate
2-3 oz paste tomatoes, meaty, said to be less susceptible to blossom end rot. Heirloom variety from Italy. Medium size plant.
Ropreco


(Adaptive Seeds/Oregon) OP – 65 days – determinate. Smallish (2″) red paste tomatoes with a small point. Very productive, decent flavor raw. Not much trouble with blossom end rot. Medium size plant. A nice size of tomato to make roasted tomato sauce. Organic seed.
Mr. Fumarole

(Fedco/Maine) OP – 65 days – Indeterminate
Large elongated 3–6″ pinkish plum tomato, particularly delicious fresh compared to most paste varieties. A winner in Fedco's 2007 paste test, and did very well at our taste testings. Low incidence of blossom end rot, but crack in wet weather. Organic seed. Very large plant.
Grandma Mary's Paste

(Fedco/Maine) OP – 68 days – Indeterminate.
Large, meaty paste tomato, early and tolerant of cold summers.
Plum Regal
(Fedco/Maine) Hybrid – 75 days – determinate. Red paste tomato with good flavor that seems to do well with few problems. Medium size plant.


---
Most tomatoes are grown from commercial seed which is true to type (most of the time – every couple of years I seem to get an off-type). A few varieties are saved seed, as noted. If you come across anything that doesn't seem right, please let me know! I only grow one or two of any variety myself, so I can't always detect rare problems.
The days to maturity are as listed by the seed vendor; it might be more or less where you are, and depending on the year, and may not be consistent between different seed vendors.