Order your custom tomato and pepper starts!
See Brochure
$4 each
Tomatoes are just about the most fun vegetable to grow – there's no limit to the number of varieties available, and they are nutritious and can be used in many ways. And there's nothing as sublime as a fresh, sun-ripened, juicy tomato fresh off the vine… just delicious.
tomatoes
peppers
eggplant
basil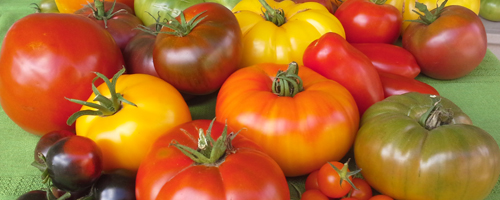 Plants are by pre-order, please decide what you want in March; for varieties, see tomatoes, peppers, eggplant and basil. I start seeds to order, and deliver large, healthy plants in late May or early June, depending on when you want them.
Generally, plants are in used coffee cups, unless we run out of cups. We aren't certified organic, but I don't use any inputs that are not allowed (not sure about traces of coffee in the cups). About half the seed is certified.
Ordering
You can order by email, phone, or in person. After you order and I've got things germinating, I'll send you a confirmation and you can be sure you'll get your plants. I start a extra in case of accidents and for last-minute sales. I'll send another email to confirm pickup time. You can pick up at the farm or at any of our various trips to Beaverton, Ashland, or elsewhere. We do not ship.
Pickup
Plants should be picked up by early June. Sometime in June the extras and unwanted ones are donated.
Even after you pick up your plants, please let me know if there are ANY problems. Even for things like late frosts or stepped-on plants that aren't our fault, we'll provide replacements, if we still have anything available.
Plant donations
If you are a school, church, or charitable organization, and you could use some tomato plants, I have extras and spares at the end of the season. The varieties are not guaranteed, but these are large and healthy plants. There may also be pepper and other plants left over, but the selection and number are much more limited. Please contact me to discuss details.